NetSuite Retail
We help retailers remove multiple systems, gain significant business efficiencies for growth and increased sales, whilst providing their customers with a great experience in-store and online
Using NetSuite and TCS POS Retail software you can easily meet the challenges of current retail conditions.
Your customers can shop anywhere, pay anywhere, receive merchandise anywhere—that's the shopping experience customers are demanding. Your customers expect a consistent and relevant brand experience regardless of touchpoint, from in-store to online sales over a laptop, smartphone or tablet. Without it, retailers risk customer dissatisfaction, lost sales and the high costs of managing separate applications and systems. Leading retailers are moving beyond standalone and disconnected retail software systems and touch points to focus on linking cross-channel customer interactions with foundational business systems to provide a single, unified view of customers and their business. The unification of business systems and the data that feeds the business makes it possible for you as a retailer to deliver a transparent, channel-agnostic, personalised customer experience. NetSuite and TCS POS for NetSuite deliver a cloud-based, multi-channel retail management software system that brings together Point of Sale, ecommerce, CRM and marketing, merchandising and order management, financials, and warehouse management into a single, centrally-managed solution. Our experienced team at BM Online have helped many retail customers implement the NetSuite and TCS POS for NetSuite cloud-based retail solution. NetSuite and TCS POS for NetSuite is an end-to-end suite of solutions designed especially for multi-channel retailers that will enable enhanced customer service across channels while driving growth and increased revenue.
Below are some of the challenges NetSuite and TCS POS can solve;
A single, integrated solution to manage your entire retail business.

Complete 360-degree view of the customer across all channels and touchpoints.

Support multiple locations, channels and brands from a single platform.

A full featured and mobile ready POS.

Powerful ecommerce capabilities on any device.
Real-time inventory visibility across all channels.

Cross-channel order management and fulfillment.

Marketing tools to target and segment offers.

Easy customization for your specific retail requirements.

A lower cost and less hassle than on-premise retail systems.

Central management of all pricing and promotions.
Using the SuiteSuccess methodology find out  you can be up and running in under 100 days
.
SuiteSuccess for Retail is the culmination of a multi-year transformation effort to combine the NetSuite unified suite, 20 years of industry leading practices, a new customer engagement model and business optimisation methods into a unified, industry cloud solution.
SuiteSuccess is engineered to solve unique industry challenges that historically have limited a company's ability to grow, scale and adapt to change. Most ERP vendors have tried to solve the industry solution problem with templates, rapid implementation methodologies and custom code.
NetSuite took a holistic approach to the problem and productised domain knowledge, leading practices, KPIs and an agile approach to product adoption. The benefits of this are faster time to value, increased business efficiency, flexibility and greater customer success.
The Four Key Pillars of SuiteSuccess are: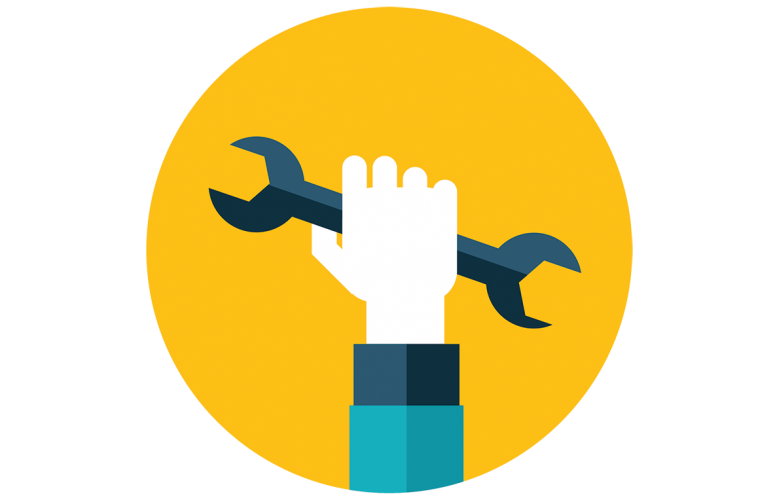 BUILD
A complete suite to support the modern business including ERP, CRM, PSA, omnichannel commerce, HR and Business Intelligence (BI) built on the NetSuite cloud platform, continually updated with leading edge capabilities and technologies to support all of our industries.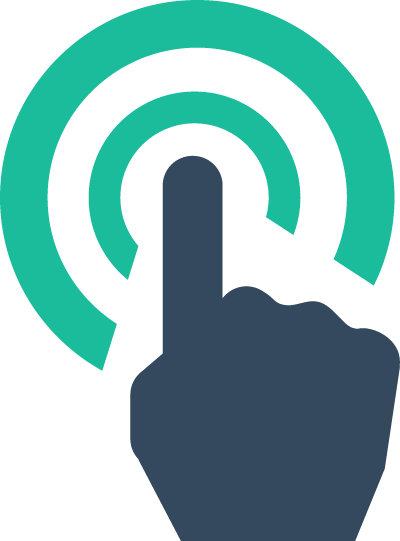 ENGAGE
Leading practices for each industry and role including workflows, KPI reports, dashboards and metrics, with the flexibility to personalise on the NetSuite platform from the initial sales contact to on-going support. With these leading practices, value is added at each stage of the engagement.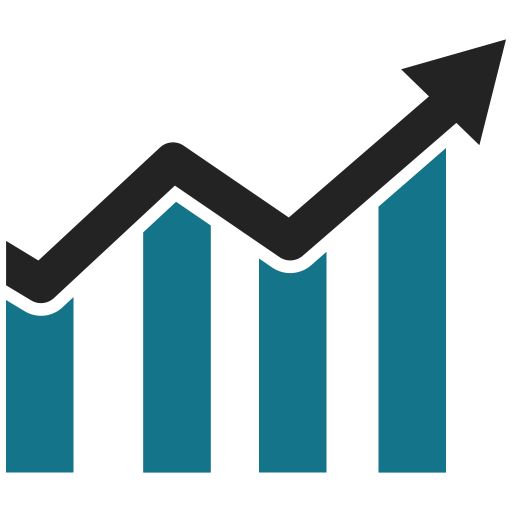 CONSUME
Intelligent staged approach via NetSuite's industry stairway allows companies to consume capabilities based on their business needs. A re-imagined consumption model drives faster time to value, better ROI and greater user adoption. Companies can now go from zero to cloud in 100 days.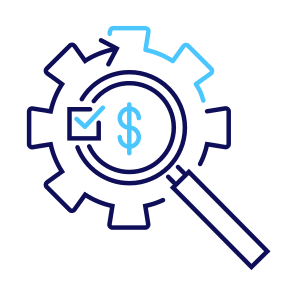 OPTIMISE
Customers benefit from continuous engagement, updated leading practices, new feature releases, value added SuiteCloud partners and movement up the stairway. Customers also are always on the latest release.
Retailers are you ready to Dominate your market? See how NetSuite Retail can help you achieve your goals.  Following the NetSuite Stairway for Retailers ensures you gain value earlier than traditional ERP systems.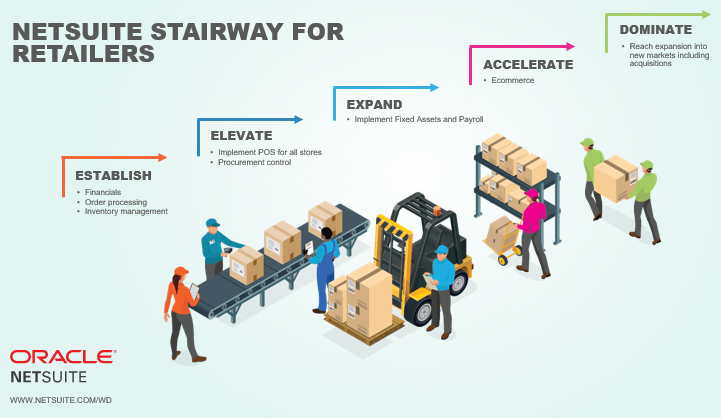 CUSTOMER-CENTRIC COMMERCE Commerce Everywhere
Grow your business and delight customers with engaging and personalised shopping experiences, optimised across all channels. You can penetrate new global markets and engage new audiences with in-store and ecommerce retail management software solutions. Marketing and Promotions get unprecedented visibility into your customers by capturing their preferences, transactions and interactions across all channels and touch points into rich profiles to drive personalised service, marketing, merchandising and promotions. Merchandise Management Efficiently analyse, order, price, and distribute inventory across your channels. You can define and maintain accurate inventory distribution and track replenishment cycles all from one place to automate ordering, prevent excess, and stop product shortages.
Bring your siloed sources of data into a single repository. Manage your retail enterprise with key metrics and make timely, fact-based decisions with dashboard analytics, ranging from retail inventory and sales reports, to suppliers and marketing campaign ROI. Business Operations Align your business and make smarter decisions in planning, pricing, merchandising and inventory management. Improve business agility and visibility by managing all online and offline channels with one version of the truth used across your entire business.
Do you want to engage your customers and increase profits?
What makes a retail experience good or bad

 

(is it people, product, or something else?)

What's involved in "getting it right" with customer service

 

(you can't rely on second chances!)

The realities of today's retail environment

 

(are you prepared for it and what's ahead?)

Is staff training the best use of your time?

 

(the answer may surprise you)
Register below to get youR FREE book "THe ultimate retail sales experience".