NetSuite create great software. BM Online implement great Professional Services solutions using NetSuite.
NetSuite offers solutions and software for professional services organisations of all sizes and business needs. NetSuite the service industry's #1 professional services automation (PSA) software to NetSuite SRP, the first and only end-to-end services resource planning (SRP) software suite to run your entire services business.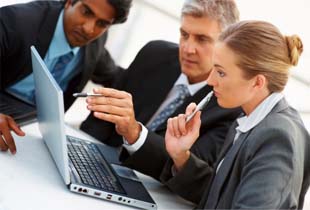 Key Benefits :
Streamline operations with real-time reporting and metrics, improve time and expense tracking, optimize cash flow, increase staff utilization and manage projects more efficiently across your organization Know exactly what your team is working on, generate accurate forecasts, and track key performance indicators, so that you can make sound business decisions Minimise administrative overhead, maximize resource utilization, automate administrative tasks and increase billable hours Support the way your services teams work today—on the road, between meetings, and on-the-fly—with online, offline and mobile access.
Project Management With project management software from NetSuite OpenAir, you get an accurate view into project status so that you can actively identify and resolve any issues. Maximize project planning, update and view project status from anywhere, leverage Gantt charts or use task completion reports, estimate project profitability, generate forecasts and provide project access to clients.
Resource Management Proactively manage the most important part of your services business—your staff resources. Track skills and availability, automate resource requests and bookings, manage resources globally and forecast and report on resource utilisation.
Time and Expense Management Quickly and easily capture detailed timesheet and expense management information, whether in the office or on the road. Enter and submit timesheets and expense reports with flexible approval workflows, integrate billable hours and expenses with project accounting, and coordinate time and expense tracking with project management.
Project Accounting and Billing NetSuite supports all project accounting and financial business processes across your entire services organization. From advanced client billing and expense allocations to invoicing and project profitability analysis, NetSuite understands the unique needs of a services business.  
Financials NetSuite Financials provides comprehensive, proven financial/ERP capabilities that integrate with your back-office, sales and services processes with accounting, budgeting, financial reporting, revenue management and more.  
Client Management With NetSuite, your services organization gains full visibility into the entire client lifecycle to increase client satisfaction across the board. Combined with full knowledge management capabilities, you can manage and monitor all projects, track jobs in real time, and track cases all while driving repeat business.