NetSuite create great software. BM Online implement great ERP software solutions using NetSuite.
NetSuite. Where Business is Going
The #1 Cloud ERP / Financials Software Suite.
Full-featured business software including accounting, CRM, inventory, and  ecommerce—all in a single system. Real-time visibility across your entire business operation. Cloud computing infrastructure dramatically lowers maintenance and license fees. Real-time dashboards for all your key employees. Anywhere, anytime access to the information you need. Deep industry solutions for: software companies, wholesalers / distributors, manufacturers, e-tailers, ecommerce companies  and service companies.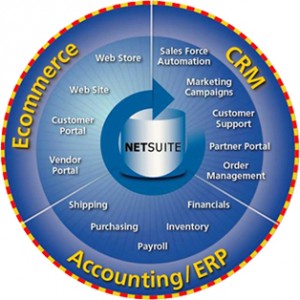 Key Benefits
Accelerates the order-to cash process by 50%+
Slashes the financial close

 

by 50% with real-time reporting
Strengthens procurement

 

with approvals and vendor management
Enriches employee management

 

through self-service
Drives decision making

 

with personalised dashboards
Increases accountability and compliance

 

with strong traceability
Reduces IT costs and delivers automated ERP system upgrades
Advances productivity

 

with anytime, anywhere access
NetSuite's cloud financial management solution is used by thousands of organisations to manage their accounting requirements This ERP accounting software accelerates your financial close, provides robustexpense management, offers streamlined and auditable revenue management and ensuresinstant visibility into the financial performance of your entire organisation.
NetSuite accounting software seamlessly integrates with all NetSuite order management, inventory, ecommerce and CRM functions to streamline core business processes, such as quote-to-cash, enabling everyone to work from a single source of sales, finance and customer data.
NetSuite supply chain management software offers a complete set of inventory management, manufacturing and purchasing capabilities that helps move inventory to the right place, at the right time, at the right cost.
Gain an in-depth, real-time view into key supplier, inventory and shop floor performance indicators. Self-service capabilities for partners, vendors and customers improve collaboration throughout the entire supply chain. With NetSuite, you'll be able to better manage inventory levels and costs—and better meet fulfillment expectations, improving customer service.
Purchasing cycles are often time-consuming and inefficient, especially when requests for goods and services have to be processed manually using a combination of phone calls, emails, paper catalogs and faxes. NetSuite procurement software helps purchasing departments streamline the procure-to-pay process and realise savings with centralised requisition management, intelligent purchasing approval workflow, and simpler purchase ordering.
NetSuite optimises your order-to-cash process by removing manual bottlenecks and errors and creating a smooth transition from sales quote to approved order, successful order to fulfilment, and invoicing to payment. NetSuite's order and billing management system functionalities integrate your sales, finance and fulfilment departments—refining quote accuracy, reducing billing errors, bolstering revenue recognition processes and driving fulfilment accuracy and efficiency.
Many businesses struggle with order fulfilment challenges posed by multiple channels, increasing order volumes and rising shipping costs. NetSuite order fulfilment software provides a seamless quote-to-order, processing-to-fulfilment solution—with complete centralisation of customer, order, invoice and shipping information—helping you eliminate manual re-entry and dramatically eliminate fulfilment errors.
NetSuite automates shipping processes by integrating with leading shipping carriers (i.e., FedEx and UPS®) and partner integration with Australia Post. You'll have access to up-to-date shipping rates, increasing efficiency, lowering your order fulfilment processing costs and adding revenue to your bottom line.