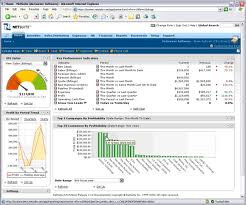 NetSuite's report writing tool's allows you to modify and write powerful reports for your business, using point and click technology. We can also modify your forms such as Invoice, Quote and Purchase Order layouts. We can show you how to write your own reports if you like.
Financial Analytics and Reporting
Take Your Finance Team from Spreadsheets Hell to Real Time Insight
Is your finance organization knee deep in spreadsheets for monitoring and analyzing financial and business performance?
NetSuite delivers built-in, real-time financial dashboards, reporting and analytics that allow you to continually monitor personalized key performance indicators (KPIs) and get access to the latest management and financial reports. Diagnose financial issues on the fly with drill-down visibility to customer, employee or transactional details—and quickly take action to drive business performance.
Benefits
Get a real-time view into company and financial performance

Close your books faster by eliminating manual reporting processes

Eliminate multiple versions of the truth with a single centralized repository

Empower everyone with fingertip access to key financial measures

Gain visibility into business performance from summaries down to the actual live transaction.
Key Features
Real-Time Financial Dashboards
Use NetSuite's dashboards to communicate information quickly, effectively and in real time

Monitor any financial measures that are important to your role—whether you're a CFO, controller, finance manager or analyst—through key performance indicators (KPIs)

Get personalized visibility into bookings, billings, receivables, period-on-period performance, actual vs. budget and actual vs. forecast, and much more

Provide all team members with access to the latest information—including reminders about required daily tasks, such as viewing overdue invoices or accepting payments—as part of their day-to-day activities.
Detailed Visibility from Summary to Detail
Drill down from any indicator or report to the live underlying transaction or customer record, eliminating the need hunt for supporting detail

For example, drill down from days sales outstanding (DSO) measures to an aging report and then to the underlying invoice and customer information—all with only a few clicks.
Financial and Operational Reporting
Take advantage of more than 100 standard reports, including income statements, balance sheets, consolidated reports, variance reports and side-by-side comparisons—ideal for internal or external reporting

Create and define customize financial reports according to your business needs

Easily email, share or export reports to formats such as PDF, Excel or Word.
Ad-Hoc Analysis
Create any report you need on the fly with NetSuite's powerful ad-hoc analysis—no more having to wait for IT to supply the report you need

Easily select the subject area and lay out your report, then share it with colleagues or add it to your daily dashboard.
Securely Access Business Insights from Anywhere
Get secure access to financial performance from anywhere with just a web browser or a mobile device such as the iPhone

Enable your extended finance team to get the latest financial and operational measures around business performance, from the CEO on the road to a geographically distributed board of directors.
Eliminate error-prone spreadsheets with NetSuite's sophisticated budgeting, planning and "what-if" financial modeling capabilities

Power your business performance with a real-time, end-to-end business management solution for strategy, planning and execution

Identify variances between your plan and actuals, isolate the organization and account responsible for the variance and drill into the transactions contributing to the variance.